Course Description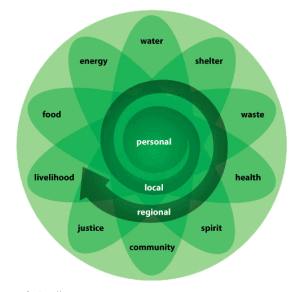 This special Permaculture Design Course offers a unique opportunity you won't find anywhere else.

By participating in this course, you will have an exceptional chance to interact with real-world permaculture demonstration sites, engage with communities and organizations that are leading the way, and hear about cutting edge civic projects, all while learning from top permaculture instructors.
The course links Daily Acts, the award-winning nonprofit that is applying permaculture solutions at the personal, neighborhood and community scale, with Toby Hemenway, one of the best-known permaculture teachers in the world. From theory to on-the-ground action and real community engagement, this course will empower you with the knowledge, experience and tools to start living a more regenerative life.
This is your chance to learn permaculture's whole-system tools to design and build regenerative landscapes, food systems, communities, schools, businesses, and relationships. Many past participants have referred to this course as "life changing."
The course takes place one weekend per month for six months, so you don't have to take time off from work to attend.
What You'll Get
You'll come out of this course with an ecological design toolkit for applying whole-systems thinking to every aspect of your life. You'll be able to create and implement regenerative solutions to personal, local, and regional issues and to the challenges facing us all.
You will also receive the internationally recognized Permaculture Design Course certificate, and gain tools for leadership, self-care, and collaboration with local communities and organizations. This is a unique opportunity to build social capital and a close, personal network of local solutionaries.
This course:
Covers the official 72-hour permaculture curriculum – including design principles, pattern literacy, mapping and surveying, soils and composting, ecology, water catchment and re-use, natural building, renewable energy, social permaculture, community building and green business design (to name a few)
Features permaculture site tours, hands-on projects, lectures, discussions, exercises, and networking opportunities
Allows plenty of one-on-one time with the instructors
Certifies you with the Permaculture Design Certificate, sponsored by the premier certifying body in the US, Permaculture Institute USA, founded by Bill Mollison
Provides membership within an international community of over 350,000 PDC graduates& makes you eligible for advanced permaculture courses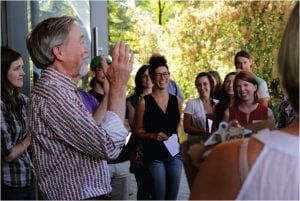 Toby Hemenway is the author of the award-winning Gaia's Garden: A Guide to Home-Scale Permaculture, the best-selling permaculture book in the world, and a new book on creating urban sustainability, The Permaculture City. Toby lectures and teaches about regenerative design and permaculture at universities and conferences all over the world. He has been an adjunct professor at Portland State University, Scholar-in-Residence at Pacific University, and has taught over 70 permaculture design courses. He and his wife, Kiel, live in Sebastopol.
To learn more check out Toby's FAQ page.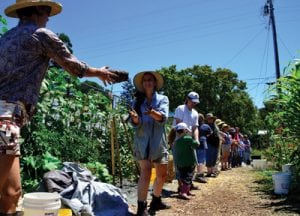 Daily Acts is an educational non-profit that supports people and communities to live more sustainably by reclaiming the power of our daily actions. Through educational programs, landscape transformations and action campaigns like the Community Resilience Challenge, they inspire action to build more resilient, nourishing and connected communities. Using a heart-centered approach, Daily Acts is at the forefront of taking permaculture solutions like sheet-mulching, greywater and food forests to scale from homes and neighborhoods to City Hall landscapes.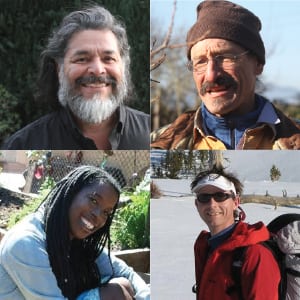 Course Content
Permaculture Design Principles
Reading the landscape (physical, social, and personal)
Pattern literacy and learning from natural systems
Homestead and landscape design
Mapping and surveying
Water harvesting, pond design, irrigation, and drought-proofing
Soil ecology, composting, and creating healthy, nutrient-dense soil
Ecological garden design, useful plants, tree crops, food forests, guilds, and raising small livestock
Natural building, efficient shelter, and designing for disaster
Renewable energy and appropriate technology
Social permaculture, community building, leadership skills, resilient networking strategies, empowering your community, and transforming local government
Green business design, right livelihood, reducing the need to earn, the 8 forms of capital, and developing economic security
Who Will Benefit?
Homeowners and renters
Urban, suburban, and rural dwellers
Architects, landscapers, contractors, and gardeners
Parents and teachers
Elected officials and government staff
Realtors and developers
Community development and non-profit staff
Homesteaders and those concerned about the future
Farmers, ranchers, and vineyardists
Locations & Dates
The course meets in Petaluma on the second full weekend of each month, October 2016 through March 2017. Between each session, you'll have ample time to absorb the information learned in class and apply it in a 'real-life' setting.
The course will be held on the following weekends:
October 8 & 9, 2016

November 12 & 13, 2016

December 10 & 11, 2016

January 14 & 15, 2017

February 11 & 12, 2017

March 11 & 12, 2017
We believe that one of the best ways to learn about permaculture is to see it in action, first-hand. That's why we're hosting this course at a different fabulous permaculture model site each month. From poly-culture farms, to the first public food forest in California, to school campuses using permaculture in their curriculum, you'll be able to interact with and influence permaculture happening in the real world, at real sites.
Contact Info
Please don't hesitate to contact us to learn more about the course in greater detail or for assistance with registration.
Kellen Watson
Programs Coordinator, Daily Acts
kellen@dailyacts.org
(707) 789-9664
Tuition Details
Early Bird Tuition – $1,145 ends September 1st

Sleepy Raccoon Tuition – $1,295 after September 1st

'Hold My Spot!' Deposit – $300 (balance due by first day of class unless choosing a payment plan)

Payment Plan – $300 Deposit Up Front + $145 (Early Bird) or $170 (Sleepy Racoon) each month for 6 months
Many people find this course to be one of the most transformative experiences of their life.
Our Fabulous Course Locations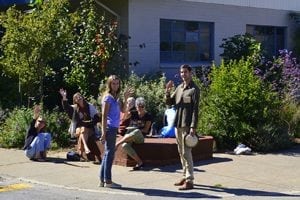 Cavanagh Community Food Forest: The first public food forest in Northern California, the Cav as it's affectionately known, is brimming with fruit, habitat, and community. This relatively small garden replaced a thirsty lawn, and now boasts 22 fruit trees, two types of rain tanks, swale trails, and a bounty of other edible, medicinal, and habitat-providing plants while saving 65,000 gallons of water per year. This was the first phase of a continuing partnership between Daily Acts and the City of Petaluma, which has since served as a model to bring Permaculture into our civic spaces all over the county.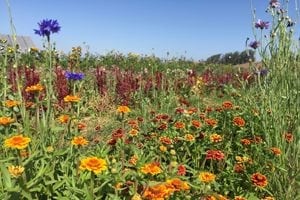 Open Field Farm: The fine folks at Open Field raise grass fed beef, lovingly cared for pork, pastured eggs, chickens, and turkeys, and a wide variety of vegetables, herbs, dry beans, corn, flowers, and small grains. All of their food is distributed through their Community Supported Agriculture (CSA) program, which we highly recommend joining! They use all organic and biodynamic practices and foster a positive relationship between the farmers, the members, and the land while continuing to improve the farm ecosystem.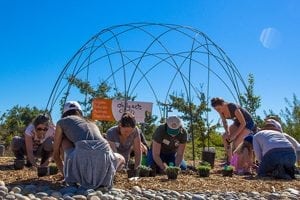 SRJC Petaluma: The food forest and outdoor classroom at the Petaluma campus of the Santa Rosa Junior College were designed and installed by a PDC group from 2014/2015! You'll get to see the possibilities for bringing a PDC project to life, as well as be part of designing the next phase of transformation at the SRJC. They have rain tanks ready for installment, and the rest is awaiting your ideas…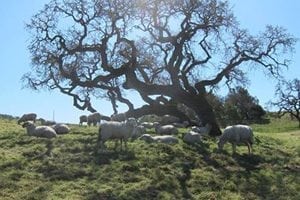 Monkey Ranch: The picturesque rolling oak savannas of Monkey Ranch are maintained by rotationally grazed sheep that are part of a regenerative agriculture movement happening throughout the county. Wildlife and fun shenanigans abound at Monkey Ranch, and it is the perfect playground to let your design imagination run wild.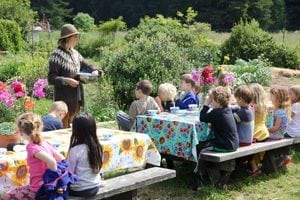 Salmon Creek School: Set among towering redwoods, this progressive school features the first LEED platinum natural school building in California, as well as a huge garden that feeds the cafeteria. The 6th-grade class there is even taking part in their own PDC! This is a great opportunity to learn about natural building, green education models, and thoughtful use of public institutions for bringing about a permaculture-inspired paradigm shift.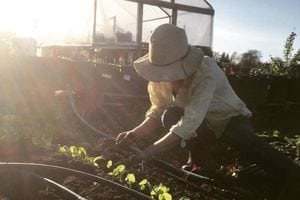 The Permaculture Skills Center: The Permaculture Skills Center is a 5-acre demonstration site and educational institution dedicated to sharing regenerative land development and management practices, especially focusing on vocational training for advanced permaculture. The site is also home to PSC's sister company, the design-build firm Permaculture Artisans. Rainwater catchment, composting systems, greywater, food forests, polyculture veggie farming, a new habitat and swimming pond, and a cob pizza oven which will fire us through our delicious graduation party.