Written by Katy Mamen
Katy Mamen is a sustainable food and agriculture consultant based in west Sonoma County. She was previously director of programs at Ag Innovations Network and coordinated the US Local Food Program for the International Society for Ecology and Culture
The Uplifting Secret Ingredient Behind Daily Acts' Success
On the surface, the Petaluma-based nonprofit organization Daily Acts looks like many other groups working to lighten our footprint on the land. Their programs encourage the widespread adoption of household- and community-level sustainability projects, empowering people with the tools to grow their own food, reduce water and energy consumption, and other efforts to build community resilience in the face of climate change.
The group works with a wide swath of society, from individuals to municipalities, churches and businesses, to foster change one action at a time, while also working to remove policy barriers that stand in the way.
But look a little closer and you'll find that Daily Acts has a certain je ne sais quoi that reveals a richness far beyond the practical aspects of its programs: The organization radiates a particular constellation of spirit, warmth, intelligence and resolve.
Daily Acts is one of those rare organizations that manages to marry concrete and effective action for a better world with an attention to the inner landscape, which founder Trathen Heckman refers to as "personal ecology."
Take Judy Mazzeo, for example, a retired editor living with her husband in Petaluma, who says she found a new lease on life as a result of her engagement with Daily Acts. For many years, Judy was active in fighting for a better world—attending marches, speaking out on issues. One day she woke up so depressed and hopeless about the state of the world that she felt she just couldn't do it any more. The weight of the crises in the world had taken their toll.
It wasn't until she experienced the Daily Acts community and "every choice matters" message that she remembers feeling that "I can do this, I can have a positive effect on the world. It may be just a little but it doesn't matter because if a lot of people did just a little, a lot can get done. That's exactly what you see on a workday; we can transform 5,000 square feet in just a few hours."
With the encouragement and technical support of Daily Acts, Judy was one of dozens of individuals who transformed front lawns into a food forest as part of the Community Resilience Challenge (previously the 350 Home and Garden Challenge). This campaign provides a DIY guide to individuals and encourages them to save water, conserve energy, grow food and build community—lofty but tangible goals that can be easily achieved by selecting actions via their online registration.
As part of this effort, Judy installed a greywater system that has captured and repurposed 10,000 gallons of wastewater over the last two years, and she has contributed to the similar transformation of several other public sites on Daily Acts workdays.
"It's just so inspirational," she says. "There's such a feeling of camaraderie. It's the best thing I've found and it has brought such a measure of joy to my life. Most people who brush up against it have similar feelings."
Indeed, speaking with some of the people who orbit Daily Acts, it's clear that the organization has a strong magnetic effect. Inevitably, a twinkle will appear in their eyes, a slow smile will spread across their faces, and a wistful sigh might escape their lips when talking about their experience with the small but mighty organization.
Daily "Actor" Jacqui McGrath attributes her move to Petaluma to the seductive effect of this organization: "I felt like I found a place to land. There was a community of people doing work, I could immediately jump in, be in service, and learn more practical skills. It's not just about the world but about the inner terrain. Daily Acts is an organization that heals not just our connection with the Earth, but with each other and with ourselves."
Daily Acts Board President Miriam Volat echoes this curative effect of the organization's ripple effect in the individuals' lives they touch, explaining that "the way I think about Daily Acts more and more is that it's really savvy health care. If you want long-term community health care, these kind of programs are really good to be involved in and support."
Nowhere is the "special sauce" of Daily Acts more apparent than in the charismatic presence of its founder, Trathen Heckman. I visited Heckman in his lush downtown Petaluma backyard one hot day, nestling in among the cob pizza oven, greywater wetland and chicken playground. Sleeping pads were still scattered on the garden path where the family had slept under the stars the night before.
Marveling at his upbeat outlook, I asked Heckman how he managed to maintain an unfailingly positive approach in the face of such global problems. Half-expecting to hear a canned intellectual analysis, I was surprised to learn that Heckman is 99.9% optimist.
"Some people say we've already missed the boat, but that doesn't change my commitment or resolve. I'm trying to focus on being present and being reverent and focusing on creating change in all aspects of my life," he says. "I'm so focused on that that I don't spend a lot of time worried or even being attached to outcomes." Heckman's passions, which include mindful leadership and spiritual practice, have helped to infuse the organization and its activities with a sense of meaning and deeper purpose.
Heckman signs correspondence with the salutation "Take heart, take action." While many organizations are true to the latter half of this aphorism, few take on the former with such complete commitment. Heckman attributes Daily Acts' success to three things: doing what they can to sustain joy and optimism, keeping a focus on positive inspiration and maintaining a personal practice.
He explains: "A few years into Daily Acts, I got clear that heart-centered mindful presence in action is core. Being heart-centered affects your mental clarity, your effectiveness, your emotional balance, so it's a practical strategy as well as just feeling good."
Personal ecology is an integral strand in the organization's DNA. The staff work hard to walk their talk, to model what they live and love. They meditate at the beginning of each staff meeting. "A big question is, how can we support each other in living into our potential more?" says Heckman.
While it's clear that the community of people working with Daily Acts in various capacities is feeling good about the work, it leaves one wondering: Does it actually deliver real results? The answer is a resounding yes; for all its heart-centered optimism, the organization actually achieves remarkable outcomes.
Four years ago, Daily Acts launched its 350 Garden Challenge, aiming to sign up 350 families to plant water-wise food gardens in the county in one weekend. The response was tremendous: 628 families planted gardens. This year, in its updated Community Resilience Challenge, the organization aimed for 3,500 actions to build community resilience through food, water and energy conserving activities. Over 7,000 actions have been registered so far, from the planting of new gardens to grow more food to the installation of home rainwater harvesting barrels.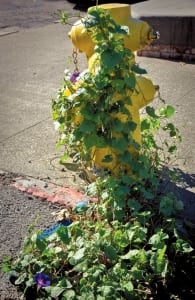 Daily Acts has hosted the largest do-it-yourself greywater workshop in the country and helped inspire a municipal program which has provided free resources to sheet mulch (adding a protective layer to the soil so as to conserve moisture, suppress weeds and improve fertility) over 500 lawns, resulting in an estimated savings of about 22 million gallons of water per year. Its work led to the first permitted single-household greywater system in Sonoma County and Heckman was a key architect of the collaborative effort to create and implement the Sonoma County Healthy and Sustainable Food Action Plan (SonomaCoFSA.org/fap).
Daily Acts calculates that, over the last decade, it has engaged close to 40,000 citizens in taking at least one conservation action such as these over the course of 800 program events.
Since Daily Acts got started in 2002, much has changed in the field—many more groups are now leading workshops in everything from gardening and food preservation to energy efficiency. In light of this, going forward, the organization is shifting its emphasis from delivering such workshops to supporting the success of other groups active in the field. Daily Acts is building strong alliances and networks, and supporting the leadership development of new community leaders while being a resource for model projects. It is also working to reach a broader demographic cross-section and is developing youth educational programs and partnerships by collaborating with partners who work in underserved communities.
The marriage of head and heart that lies at the core of Daily Acts' methodology represents a powerful new paradigm of activism, one that holds great hope for the future. In the words of Judy Mazzeo, "It's about having the sense that you can matter. I don't mean that in a selfish way—that's what everyone wants, to feel a part of something, to feel like their life matters. You can accomplish good things. It isn't just work, it's fun."