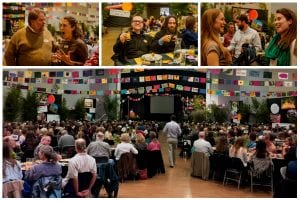 From devastating hurricanes to the violence of hate, it seems every week there is more hurt and uncertainty in our world. One thing that is certain, is that healing starts in our heart, moves to our hands and is nurtured by community. And it must be in right relation with this precious planet we call home.
For 16 years with you at our side, Daily Acts has provided transformative education and action programs that change lives, landscapes, even communities. But given the urgency of this big planetary moment, it's time to take things to a new level of heart-centered, community-powered, eco-efficacious impact. To do this, we must come together to renew our inspiration, and to reconnect to each other and our collective potential.
Next Thursday, 600 inspired change makers will gather for our 10th annual Ripple the World Fundraising Breakfast. We hope you will join us to get re-inspired and reconnected, because as our theme this year reminds us, A Connected Community Flourishes.
Ten years ago on the eve of the first Ripple the World, Daily Acts was a $60,000 organization with three part time staff and me directing another non-profit half time to pay the bills.
The event was a big success, if a little rough around the edges. We were adapting to registration mix-ups that left 300+ guests arriving all at once with no seat assignments or forgetting to cut off incoming RSVP's when we exceeded our room capacity. I can still picture our speakers, like former Mayor Craig Litwin and his family graciously sitting on a crowded edge of the packed room with a plate of food on his lap.
Since then, this annual gathering has provided the critical financial and community support to grow Daily Acts from 3 part time staff and a $60,000 budget to 9 full time staff and a $620,000 budget. Because of the foundational support Ripple the World guests have provided, we have educated over 46,000 change makers in 928 programs; transformed over 100 landscapes, mobilized and inspired more than 80,000 resilience-building actions and projects locally, regionally and nationally. We have influenced civic programs and policies that have transformed many more landscapes. Many of you have brought guests who have become new community and city partners, donors, volunteers and board members.
True to this year's theme, a connected community flourishes, this gathering brings our community together, to connect with other concerned and engaged leaders and to affirm one's value and contributions, helping us remember that we a part of something much larger, more vital and powerful. We are a leadership community of heart and action, ready to rise to the times by stepping into our potential as people, as leaders from across society, and as a community.
Thank you from the depth of my heart for all that you have helped this small organization achieve and be. I hope you will join us at Ripple the World as we get ready to kick off our training wheels and truly unleash the genius of this community!