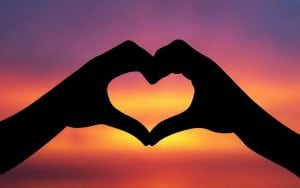 Dear Daily Actor,
We are so very proud of our community and the way you all have responded to this crisis. Generosity overwhelming the evacuation shelters, recovery funds growing rapidly to be able to maximize impact, and strangers asking about each other's welfare and "how are you holding up" with genuine sincerity.
Like many folks, Daily Acts' staff and myself have been taking action day and nights since the fires started: from helping launch the Just and Resilient Futures Fund to coordinating with Grant Davis, the Director of the California Department of Water Resources, to helping convene over 30 agency and non-profit leaders this week to coordinate fire response and recovery efforts. We also continue to run programs to help people stay healthy with increased stress and toxicity; and to build local resilience by empowering youth and community members while creating more edible, resilient landscapes at schools, libraries and other places. Having entered an era of climate disruption with more severe fires, floods, droughts and hurricanes… growing more skilled, connected and resilient communities is more critical than ever.
While it makes me uncomfortable to ask for help rather than just give it, I've been encouraged by supporters and leaders to do so. Cancelling Ripple the World, our biggest fundraiser of the year, after investing so many resources into it has put us in a difficult situation. The income lost from our fundraiser and future commitments made at the breakfast is on average $200,000, a huge portion of our annual budget of just over $600,000.
Fortunately, a handful of generous supporters have contributed to a $60,000 Challenge Fund. Matching this fund is an important step to keeping Daily Acts strong and fully staffed in this time of critical need. While it won't fully replace Ripple the World, or cover the additional response commitments we have taken on, your support would make an enormous difference right now. So in place of 600 inspired people and leaders coming together, this is our not quite as fancy, non-event request for support.
Many of you know us for transformative educational programs that create more nourishing, connected and resilient homes, gardens and communities. But more than anything what we do is collaborate and partner every year with over 100 organizations, agencies, businesses, schools and churches to act as an ecosystem catalyst for wider scale positive change. Many of our partners are also hurting from direct loss or the weight of new responsibilities, more people to serve, feed and support, more restoration work to do.
The theme for Ripple the World this year was A Connected Community Flourishes. This is true now more than ever. We need all hands and all hearts on deck. While we are still focused on immediate relief, now is the time to connect, organize and mobilize so that the recovery and rebuild is not business as usual. In addition to the heartening response of our community, I am astounded by the recognition of nearly every leader I have spoken with that collectively we need to be and do different – from individuals to organizations, business and agencies. The job of protecting and rebuilding our communities is too big for business as usual.
We need to keep and sustain our population, caring for those who are most vulnerable right now.
We need to restore and regenerate our environment.
We need to rebuild better and together.
We need to repair our economy and as Herman Hernandez recently spoke at the Latino State of the County, we need to define equity as a primary economic driver.
This is why we are convening, facilitating and coordinating with all manner of organizations, agencies and elected officials. If you would like to join the conversation this weekend, on Friday, Saturday and Sunday come to the Bioneers Conference. Brock Dolman, Erin Axelrod, myself and others will be convening daily brainstorm sessions at 4:30pm called Relief, Recovery and Rebuilding in the North Bay & North Coast. These sessions are free to attend and don't require a conference pass.
Lastly, in this time of great need. Please take care of yourself so you can best care for others.
Stay safe, stay connected, stay in your heart,
xoxo
Trathen and the Daily Acts team