Grateful greetings dear Daily Actors,
August already? And so much goodness literally underfoot! From mapping your property, to the insects that play a vital role in our ecosystem, to carbon farming through food – there is much eco-resiliency in this place we call home. Join us to learn, celebrate, and dine our way to a more resilient community!
With Soil to Supper farm-to-table fundraiser nine days away on Saturday, August 10th, we want to take a moment to honor regenerative agriculture and the hardworking farmers, ranchers, and vintners who not only contribute to food security but positively address climate change through their practices. Put simply, carbon farming is rebuilding the soil using plants and other living things in the soil to trap carbon. The primary goal of regenerative agriculture is to farm carbon while healing the land.
In fact, one of the most promising findings for reversing CO2 levels in our atmosphere are the practices associated with regenerative grazing. This ranching method actually removes carbon from the atmosphere with the use of high-density rotational grazing, which encourages perennials, stimulates new plant growth, and allows areas to recover in between grazing – mimicking the prairies hundreds of years ago when there were widespread elk and buffalo herds. This is a radically different approach to business from traditional meat production.
Freestone Ranch, one of the local businesses supporting Soil to Supper, was recently featured in Made Local Magazine for being the first ranch in Sonoma County to complete a Carbon Farm Plan.
Their regenerative ranching employs compost application, critical area plantings, riparian restoration, wetland creation, and the installation of windbreaks. "Spreading compost on tens of thousands of acres can sound silly until you consider that it's a bit of food and water in a struggling system. Hedgerows can sound quaint until you get a profound sense of how powerful they can be as habitat for an incredible diversity of species." shares Misty Gay-West of Freestone Ranch.
With cows producing carbon in the form of methane, contributing 14.5% of all human-caused greenhouse gas emissions globally, it is more important than ever to know where your meat comes from and how the animal was raised. Was it raised locally and with an integrity for life? Are the land practices conducive to a future where the climate stabilizes? If the answer to these question is no, then you can always consider a plant-based diet to lower your carbon footprint.
We are grateful to these regenerative businesses who are contributing to make Soil to Supper possible!
Freestone Ranch, Tara Firma Farms, Pozzi Ranch, Live Oak Farm, Singing Frogs Farm, Bonterra, Eco Terreno Wines, Frey Vineyards, Leaf and Vine Wines, McEvoy Ranch, & Eyrie Olive Oil
We're proud to partner with companies looking for responsible solutions to climate issues and environmental stewardship in our food production systems.
Take heart, take action,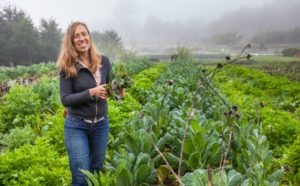 Susan & the Daily Acts Team