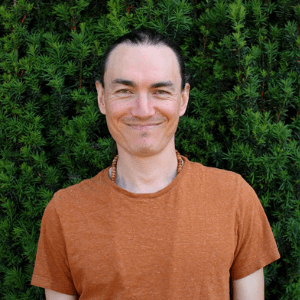 Chris Clarke
Programs Coordinator
After years of feeling that there was more to life than what school and life growing up in the DC area had offered, Chris took his degrees in Economics and Spanish and joined the Peace Corps. He was sent to rural Costa Rica as a Community Economic Development Advisor and stayed for three years including one working as a micro finance consultant forming community banks.
Although his time in Costa Rica was beautiful and perspective-shifting, his search continued and drew him to the Bay Area for two years of the Regenerative Design and Nature Awareness (RDNA) program and a third year at Weaving Earth. During those years he gained a solid foundation in nature connection mentoring, tracking, bird language, and permaculture among other things.
Chris has worked with kids and adults in nature connection mentoring and has also done residential permaculture design and installation. In his "spare" time you can find him practicing yoga, meditating, cooking, and enjoying wild spaces. He is continuing to explore how fully alive humans live and is working to leave the planet better than he found it for future generations. He's glad to report that there is a whole lot more to life than what he had previously known.