Our Homegrown gatherings, tours, workshops and talks provide the support needed to turn inspiration into action and teach people how to live a more nourishing existence, while radically reducing their footprint on the planet. These programs grow hope, skills, community, habitat, policy change and engaged citizens who are feeding neighbors, forging connections and finding creative solutions to reclaim our future.
Feeling inspired to get involved? Check out the many ways to build your resiliency with our upcoming Homegrown Programs, Garden Wheel tool kit and Monthly Makers recipes…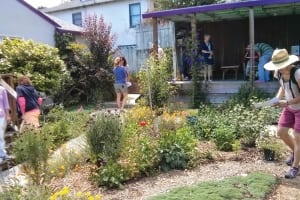 Homegrown Programs build household and community self-reliance by transforming our homes and landscapes into productive, resilient ecosystems.
Changing the world starts by leading with how you live. Daily Acts' Homegrown Programs provide citizens support to turn inspiration into action to live a more nourishing existence, while radically reducing their footprint on the planet.
With a growing bounty of inspiring Homegrown Model Sites, Tours, Workshops and Community Groups like the Homegrown Guild and Petaluma Garden Wheel, our Homegrown Programs provide the skills, resources and connections to transform how you live.
No one alone has all the abilities, time or knowledge, but together as a community we grow whole.
Regardless of your resources and whether you rent or own, are urban or are rural, it's about cultivating the resourcefulness, relationships and proactive audacity to turn large problems into elegant, tasty, eco-efficacious solutions. It's not about being perfect, it's about being proactive and committed to learn, do and share what you live; and to keep growing.
Are you ready to join the Solution Revolution?
Check out these Project Profiles for inspiration from our latest Homegrown Program Series 'Healthy Hearts, Happy Homes', our answer to leading a toxic free lifestyle by making our own natural products.
Curious about our past program offerings? See below for an abundance of hands-on talks, tours and workshop topics…
Chickens, Bees and other Animal Husbandry
Personal Ecology
Eco-clothing
Food Preservation – Canning, Fermenting, Pickling and Dehydrating
Natural Building, Paints & Green Homes
Mushroom ID and Growing Practices
Permaculture Tours
Pollinators, Habitat and Wildlife Gardening
Propagation, Fruit Tree Pruning & Grafting
Seaweed Harvesting
Don't see a particular skill or experience presented? Fill out this survey and let us know how we can expand our knowledge to provide the opportunity you are looking for.
A Garden Wheel is a group of friends and neighbors that meets regularly to share resources, skills, potlucks and the joys (and burdens) of garden related activities; and like a wheel the group rotates to a different garden each meeting. Build community, lend a hand, and transform neighbors' lawns into lunch!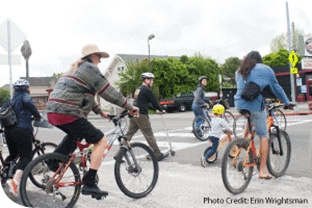 Members of the Petaluma Garden Wheel, a community group facilitated by Daily Acts, met regularly one Sunday a month to support each other's big projects, make communal meals or take bicycle tours.
Want to start a Garden Wheel in your neighborhood? Check out the tool kit (coming soon) for tips on how to engage your neighbors, organize a workshop or event and of course make it inspiring and fun! Remember this is just the kind of community building activity that makes a perfect action to register in our Community Resilience Challenge!
Take your new homegrown skills to the next level and turn some of that garden bounty into healthy solutions for your personal and home care. With so many of our products containing un-pronounceable words and scary ingredients, there is no time like the present to ditch the toxic for the natural and homemade. Plus it's so easy!
Curious about what your favorite personal care products may contain? Look them up in the extensive Environmental Working Group's Skin Deep Cosmetics Database.
Whether you're looking for a DEET free alternative to keep the bugs away or a bathroom cleaner that does not contain bleach, there are many options that can be quickly whipped up. Our monthly makers videos below are not only informative but fun to watch (we hope) and demonstrate some simple DIY recipes that are a great starting place for nature-based self-care.
Last but not least, we truly believe that making together is way more enjoyable than making alone, especially when a second or third opinion is needed such as 'Is my new homemade deodorant working?" We hope you'll be inspired by the infinite possibilities, invite over some friends and make these recipes your own. Better yet, send us a video of your making or your latest recipe that you would like to share and we will spread the word.
If you are looking for more ideas to expand your pantry, keep your counter's clean or boost your immune system then check out some of our favorite resources to engage your curiosity and get you making!
DIY books…
Rosemary Gladstar's 'Herbal Recipes for Vibrant Health'
Christopher Hobbs & Leslie Gardener's 'Grow It, Heal It'
Jan Berry's '101 Easy Homemade Products for your Skin, Health & Home'
Great websites…
For more tips on how to DIY your way to a more toxic free lifestyle check out these resources:
Herbal Honeys & Syrups
Dustin
2017-09-26T15:05:38-08:00
What You Need
Ingredients – Makes 36 ounces
• Herbs, coarsely ground – 28 oz by volume (14oz/1.75 cups for each: tea & honey)
• Honey – 14 oz./1.75 cups
• Water – 24 oz./3 cups (for decoction and double boiler)
• Herbal tincture – 12 oz./1.75 cups (for syrup)
Equipment
• Measuring cup
• Clean mason jar(s) with lid(s)
• Thermometer for liquids (for honey)
• Double boiler (to heat honey)
• Label, permanent marker and clear packing tape
• Potato ricer or similar implement
• Cloth for straining: muslin, tighter weave cheesecloth, cotton gauze fabric or a clean t-shirt
• Glass bottle(s) to store finished product(s)
Note: You can prepare herbal honeys as stand-alone medicines and to sweeten teas and tinctures by following Step 3 below. Herbal infused honeys, made from dried herbs, have a very long shelf life.
This syrup contains equal parts (important to ensure proper preservation!), by volume, of:
• 1 part Herbal Honey Infusion (12 oz)
• 1 part concentrated Herbal Water Infusion or Decoction (12 oz)
• 1 part Herbal Tincture (12 oz)
Instructions
1. Gather & clean your supplies
2. Prepare the herbal tincture(s). To use homemade tincture(s) in your syrup, prepare it at least 4 weeks prior to making a syrup. You can also use store-bought tinctures or straight alcohol.
3. Prepare your herbal infused honey:
Coarsely grind dry herbs. Using a measuring cup, combine equal parts of herb(s) (14oz) and honey (14oz) in a double boiler and heat on low for 6 – 8 hours, stirring periodically. Honey temperature should not exceed 110-115 °F. If needed, add more honey to cover the herbs and replenish the water in the bottom pot of the double boiler.
While still warm, strain the honey through cloth. Press the honey from the herbal material by pressing with a potato ricer or similar kitchen tool or wringing out with your hands.
4. Make the concentrated herbal water infusion or decoction:
Measure dried herb in a measuring cup using 1 part herb(s) to 1 part water, by volume.
Example: 14 oz of herb(s) in 14 oz of water.
5. Combine honey infusion, water extract & herbal tincture:
Combine equal parts by volume. For example:
12 oz of honey + 12 oz of tincture + 12 oz of water extract (infusion or decoction)
6. Label syrup with: herb(s), date & alcohol percentage. Cover label with clear packing tape. Depending on the alcohol percentage of your tincture and whether you used fresh or dried herbs, the alcohol percentage in your finished syrup will be anywhere from 10-30%.
*Storage, Dosage & Safety tips:
If you used a tincture with less than 75% alcohol, keep your syrup refrigerated. The higher the alcohol content, the longer your syrup will keep. Look out for signs of spoilage such as bubbling, off smells or visible mold.
If you used a tincture with 75% or higher alcohol content, your syrup will have a final alcohol level of ~25% and should keep refrigerated for ~2 years.
Dosage will vary by herb. A general dose is ~1-2 teaspoons up to 3 x a day for a 150 pound adult.
Determining dosage in children by weight:
Assume adult dosage is for 150 lb adult. Divide child's weight by 150. Take that number and multiply it by the recommended adult dosage. Example: for a 50 pound child, dose 1/3 the recommended dose for an adult. If adult dose is 2 teaspoons (10ml) of syrup, give 3.3 ml or ~3/4 teaspoon. Note that ½ of that dose is tincture so 1.1 ml in this example.
IMPORTANT SAFETY NOTE: Do not give honey to babies under 1 year of age.
Alcohol-Free Syrups: combine the tea and honey, in equal parts by volume and omit the alcohol for a slightly weaker, alcohol free syrup. This must be refrigerated and will last 1-2 weeks in the refrigerator.
Reso