Your heart-filled contributions and inspired engagement is literally what puts Daily Acts in more hearts, hands and communities.
Here are just a few of our impacts and accomplishments in 2017 & 2018:
Education and Action

8,500+ individuals and leaders educated and inspired into action.
154+ sustainability tours, workshops and presentations locally, regionally, nationally.
5,810 sustainability actions registered in Sonoma County for the Community Resilience Challenge.

Creating Models of Sustainability

7 new model sites installed demonstrating water efficiency, food forest, and native pollinator gardens, including: Petaluma Library, Crossroads School, Sebastopol Grange, Old Vineyard Park, Park Village of Sebastopol, Veterans Village (in process), and Homes for Sonoma (in process).
4 school gardens installed in partnership with Conservation Corps North Bay at Guerneville Elementary, El Molino High School, McDowell Elementary, and Santa Rosa Junior College.
11 graywater systems installed as part of QWEL certified Graywater Installer programs.

Fire Response and Recovery

Developed resources on toxics exposure reduction and self-care practices in English and Spanish.
Partnered with the Sonoma County Water Agency on creating permit-ready landscape templates.
Offered presentations and design assistance to homeowners who are rebuilding.
Installing model landscapes at Homes for Sonoma (pending Dec. 2018).
Hosted 2 Community Forums on Earth Care, People Care and Resilient Rebuild.
Chair for the Just and Resilient Future Fund, which has raised and granted $303,000 to farmers, undocumented and underinsured people, and support for an equitable rebuild across three counties.
Organized initial meeting and continued as a participant of the Watershed Collaborative.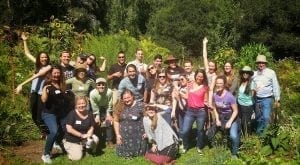 Keeping Sustainability Leadership Alive
Re-launched the Leadership Institute for Ecology and the Economy as the Daily Acts Leadership Institute.
Inaugurated Class of 2019 with 24 influential leaders from government, business, and non-profit sectors.

Launched Environmental Health Program and Network

Offered 17 programs on Environmental Health designed to help vulnerable populations.
Partnering with North Bay Organizing Project, Corazon, and From the Ground Up to provide education for Latinx communities.
Created the North Bay Environmental Health Network tovision greater systems of equity and justice within environmental health and to co-create projects and collaborations that foster healthier environments.
Collaborating with Toxic Free Futures Campaign to eliminate synthetic pesticide use in public schools.