Daily Acts is a dedicated steward of Sonoma County's environmental health.
We are thrilled to be rolling out a new pilot in partnership with the Jonas Family Fund focused on children and environmental health. We are exploring the interrelationships between children's health and the environments in which they live, learn, and play. With a focus on education, outreach, and community engagement, we are developing offerings that support children's (and all of our) health and well-being.
The primary goals of our environmental health programs are to foster healthier, more resilient, and safer communities.
Our programs support healthy, sustainable school environments by:
Educating families, educators, school board members, administrators, and health advocates on evidence-based best practices for toxins reduction and/or elimination in community areas
Identifying and evaluating common toxins
Understanding health impacts of toxins exposure
Educating on exposures reduction and supporting resilient health
Supporting schools and organizations in adopting and implementing Least Toxic Practices
Instituting sustainable landscaping practices on school campuses that increase opportunities to conserve water, grow food, reduce waste, and build community
Cultivating community stewardship of our environmental health
Advocating for policies that protect children's health
Pesticide-free schools and public parks
No idling at schools, sporting events
Waste Reduction
Limited WiFi Exposure
Collaborating with other leaders in the field to recommend and apply protective interventions that reduce hazards in community areas
Providing environmental health education and outreach events and materials to the community, particularly vulnerable communities
Engaging community members, policy makers, and philanthropists in stewardship of our collective environmental health
For more information about Daily Acts' Environmental Health Programs, please contact Nichole Warwick, Environmental Health Programs Coordinator, nichole@dailyacts.org
Daily Acts is proud to partner with Sonoma County Conservation Action's Toxic Free Future Campaign to #WeedOutRoundup
GREAT NEWS!!
Thanks to the collaborative efforts of Santa Rosa City School District and the Toxic Free Future Campaign, SRCSD will develop a Least Toxic Integrated Pest Management Plan that protects children's health and development by eliminating the use of synthetic pesticides (including herbicides and insecticides) on school campuses throughout the district. They will also form an IPM Advisory Group comprised of district family members and community leaders in the field. The new least-toxic practices IPM will be ready to be implemented in all 25 SRCSD schools starting June 2018!
To learn more about the Toxic Free Future Campaign: http://www.conservationaction.org/news/toxicfree/
MORE GOOD NEWS!
Effective January 1, 2018, California law now restricts farms within a quarter mile of public K-12 schools and licensed day-cares from spraying certain pesticides during school hours (Monday-Friday from 6 a.m. to 6 p.m.). While this does not account for pesticide longevity in the environment, families who attend community events on campuses after school hours, or mandatory notifications of sprays, it is a small step in the right direction.
Toxic Free Future: New Law for Spraying near Schools
By Megan Kaun, Nichole Warwick & Lendri Purcell
Healthy Schools, Healthy Kids, Brighter Futures
URBAN WILDFIRES IMPACT ENVIRONMENTAL HEALTH
The October 2017 North Bay Wild Fires significantly affected our environmental health. Prior to the fires, we already faced some grim statistics for childhood environmental health outcomes (including cancer rates, autoimmune diseases, and developmental delays). [I WILL PROVIDE LINKS TO STATISTICAL EVIDENCE SOON] Since we now live in a significantly more affected and toxic environment, it is important to understand the risks and protective actions we can take to reduce exposure, steward bio-remediation of soil and water, and build resilient health and well-being.
There are currently over 84,000 known chemicals in commerce in the United States. Less than one percent are required to be tested for safety, and of those, more than 1,400 chemicals and chemical groups are known or likely carcinogens. Most of these chemicals are used in building materials, electronics, and everyday household items like the things that burned during the fire storms. Known and unknown toxic chemicals were released into our environment in the form of particulate matter that moved through the air in the smoke and ash that blanketed all of our county and affected about a third of the state of California. Toxics of concern can be identified here.
TOXICS RELEASED INTO ENVIRONMENT FROM URBAN WILDFIRES
ROUTES OF EXPOSURE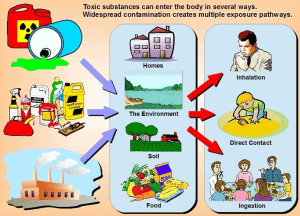 TOXIN EXPOSURE CYCLE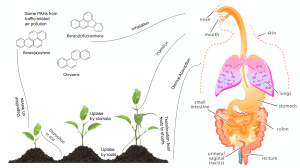 [RADITZ, 2017]
As the fires burned, winds carried toxic particulate matter across the land and into various bodies of water, affecting people, animals, farms, livestock, drinking water, etc. Rainwaters continue to move this toxic contamination deeper into the soils and spread it father throughout our watersheds. We are unquestionably affected, however we do not yet know the full impacts of this unprecedented exposure.
Environmental Health Risk Assessments define the health risks in relationship to the protective benefits. In this light, there are considerable risks and many, many protective benefits here in Sonoma County. We have a resilient and remarkable non-profit sector that has stepped up to take the lead on testing, bioremediation efforts, and people care. The land and water stewards in Sonoma County are among the leaders in environmental health and stewardship. We are in good company.
SONOMA COUNTY ENVIRONMENTAL HEALTH MAP
In nature, the antidote grows near the poison. Here in Sonoma County, poison oak generally grows in close proximity to its antidote soapwort. Let nature be our guide here; these risks are within our capacity to bio-remediate. We are the antidote! We have a strong community of environmental stewards who are working with heart and commitment to protect our health in the face of toxicity. We cannot do this alone!
You can be part of our resilience and bioremediation efforts too!
For more information to get involved as a volunteer or contributor: SONOMACOUNTY.RECOVERS  OR SONOMA COUNTY RESILIENCE FUND
DAILY ACTIONS YOU CAN TAKE TO REDUCE TOXICS EXPOSURE
NORTH BAY FIRES ENVIRONMENTAL HEALTH RECOMMENDATIONS AND LOS INCENDIOS DEL NORTE DE LA BAHIA & LA SALUD AMBIENTAL