¿Qué Pasa Con el Agua?
A Daily Acts y al Centro de Ecología de Sonoma nos gustaría escuchar de usted. Estamos organizando eventos donde nos puede contar sus observaciones, experiencias, ideas y sugerencias sobre problemas con el agua en su comunidad. Nuestra meta es conectar su aporte con los estudios, planes, y pólizas relacionadas al agua del programa Manejo de Agua Regional Integrada (IRWM). Eventualmente este esfuerzo nos ayudará priorizar proyectos y oportunidades en el futuro y necesitamos su voz, su opinión, y su participación para tener éxito!
Hay dos oportunidades para involucrarse. Primero, puede asistir a una de nuestras asambleas que están por venir. Brindaremos más detalles sobre ellas cuando tenemos los datos fijados. La segunda opción es llenar una encuesta que tiene un mapa para ayudarle localizar los problemas y las oportunidades. ¡Claro que podría llenar la encuesta y asistir una asamblea, también!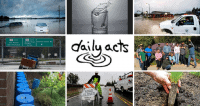 Water You Up To?
Daily Acts and Sonoma Ecology Center would like to hear from you. We are hosting events where you can share your observations, ideas, and suggestions about water issues in your community. Our goal is to connect your input to Integrated Regional Water Management (IRWM) planning efforts and water policy. This will eventually help us prioritize future projects and opportunities, and we need your input, voice, and participation to make it happen!
There are a few ways you can be involved. We will be hosting listening sessions at various locations in Petaluma. We'll keep you informed about when and where those will be. We've also developed an online survey with a mapping tool to help you describe where problemas and opportunities are occurring. Of coarse, you could take the survey and attend a listening session, too!
Background
Funding for this program comes from  Proposition 1, a bond that was passed by voters in 2014, and is being managed by EJCW. This program is a key element of the California Department of Water Resources' IRWM planning process and over the next three years, EJCW will administer $6.5 million to outreach projects that engage populations historically underrepresented in water governance.
Our hope is to provide vulnerable communities facing disproportionate environmental burdens with an equitable voice in determining their futures.
Results from this listening sessions will be shared directly with participants, the general public through our website, and the City of Petaluma in a report. Your input will also help Daily Acts shape programs that support you.
Collaborating with the following organizations helps strengthen this program: EJCW, Sonoma Water, Valley of the Moon Water District, La Luz, y Family Resource Center, and Sonoma Ecology Center.
Antecedente
Fondos para este programa vienen de Prop-1, un bono aprobado por los votantes en 2014, y  están administrados por medio de la Coalición de Justicia Ambiental para el Agua (EJCW). El programa es un elemento clave en el proceso de planificación de IRWM del Departamento de Recursos Hídricos de California (DWR). Durante los próximos tres años, EJCW administrará $6.5 millones para proyectos que involucren poblaciones históricamente subrepresentadas en la gobernanza del agua.
Nuestra esperanza es apoderar a las comunidades enfrentando cargas ambientales desproporcionadas con una voz equitativa para determinar su futuro.
Nosotros compartiramos las resultas de las asambleas y la encuesta directamente con todos los participantes, con el público por medio de nuestro sitio de web, y con la Ciudad de Petaluma por un informe. Sus comentarios ayudarán a Daily Acts diseñar programas para apoyar el desarrollo de sus metas ecológicas.
Colaborando con las siguientes organizaciones da fuerza a este proyecto: EJCW, Sonoma Water, Valley of the Moon Water District, La Luz,  Family Resource Center, y Sonoma Ecology Center.