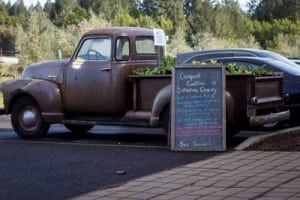 The four major principles of Carbon Farming at home – modified and summarized from the more comprehensive and excellent The Climate Friendly Gardener guide from The Union of Concerned Scientists:
Reduce Your Inputs!

Most of what we buy in the store has embodied carbon emissions due to the manufacturing of that input – try and identify what "waste" streams you can access in your neighborhood instead of store-bought inputs. For example, cardboard from your neighbors' recycle bin, seaweed boas after a day at the beach, fish bones from your local fisherman, the sky's the limit. You'll save money and reduce your footprint!

Mulch, mulch, baby:

Mulch is the answer! Got leaves that your neighbor sweeps up and puts in the green can? Snag 'em to mulch your garden! Keep bare soil covered at all times to prevent it from losing moisture – this will also prevent carbon in the soil from oxidizing. Over time, you will see that this will drought-proof your garden and increase the humus content and productivity of your soils.

Perennialize:

Trees and shrubs have a natural ability to transform atmospheric carbon – in addition to helping pump sugars into the soil, they grow "woody trunks" which store above-ground carbon! The more of these you have in your garden, the better (plus, they create great habitat for the birds and the bees). Perennials are also often grown in no-till systems, which maintains and fosters essential habitat for ground-nesting bees and other beneficial animals.  Transitioning your garden to a perennial "food forest" will help to reduce the amount of time spent on maintenance and you'll be able to spend the majority of your time harvesting from your established plants!

Compost! Since the closure of Sonoma Compost, Sonoma County's organic materials are being shipped out of county, so it is even more critical that you compost at home! Already compost? Help a neighbor start their compost system. Get involved in the Compost Coalition of Sonoma County and visit their Facebook page.
Monitor: Test your soil regularly and check out Jeff Lowenthal's book "Teaming with Nutrients" (available at the Petaluma Seed Bank) for more detailed information on nutrient management. The gist of it is, you need to get to know your soil to be the best soil steward possible. Soil tests can also help you track any soil carbon increases. Another great resource from the Union of Concerned Scientists' is their Citizen-Science Protocol for taking soil samples.