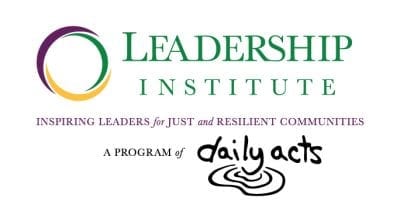 Inspiring, educating, and connecting leaders to create and model healthy, just, and resilient communities.
Ignite Your Leadership Potential
We are pleased to announce that applications are now being accepted for the 2018-2019 Leadership Institute for Just and Resilient Communities (previously the Leadership Institute for Ecology and the Economy).
This unique leadership development program is designed to meet the need for effective and connected leaders who can promote systems level change to create a better future for all.
Our goal over this 10-month program is to provide the inspiration, skills, and support network for leaders to be more powerful change agents in their lives, organizations, and communities.
This is an exceptional opportunity to develop your leadership skills, broaden your cross-sector network, and expand your understanding of local solutions to current issues facing our community.
APPLY for the Class of 2018-2019
Download the Fall 2018 Course Application here.
(Word Document will automatically download)
How do we do this?
Classes meet for a full day each month as we move through the four pillars of leadership, building on personal practices of values-aligned leadership and stepping into how to effectively lead at the community and organizational level.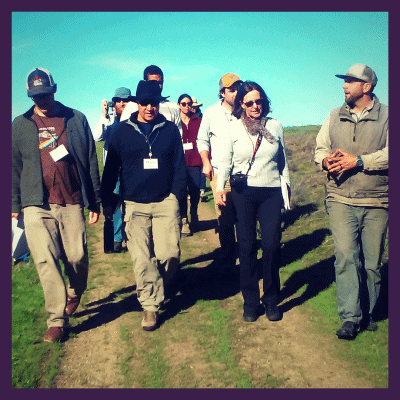 We explore models that address issues impacting our economic, environmental and societal systems as the course location rotates to tour and experience different inspiring sites around Sonoma County.
Through robust discussion with experts, guided self-reflection, and project-based learning, each class you will learn about the intersecting challenges and opportunities around topics such as:
Climate Change and Energy

Systems of Inequality

Social and Environmental Health

Water and Natural Resources

Agriculture: Food and Fiber

Housing and Land Use

Diversified Economics

Community Resilience
Each cohort is made up of a mixture of government, business, and nonprofit participants, creating a unique setting for rich group discussion as we apply systems thinking to focus our impact and efforts around the solutions that will best benefit this and future generations.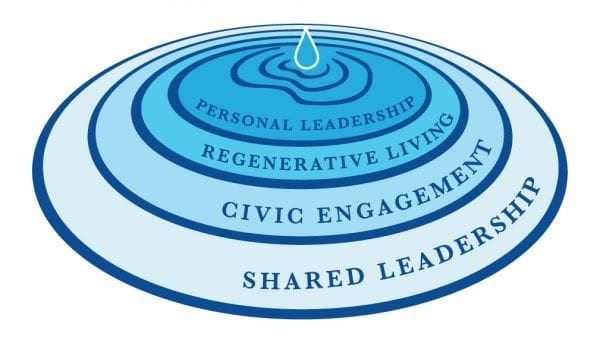 Personal Leadership Development – Clarify and operate from your purpose, passions and strengths.
Regenerative Living – Live your values and embody the change you want to see in the world.
Civic Engagement – Take action and drive positive change to protect and promote our public values.
Shared Leadership – Gain tools to be a more effective leader while sharing power through co-creative and collaborative leadership models.
The Graduates Fellows Network

Graduates of the program join an engaged network of change-makers, from state and local elected officials, to business entrepreneurs, non profit thought leaders and more.  The Fellows Network, composed of more than 500 Leadership Institute graduates, gives access to seasonal networking events, ongoing education and more.
Ideal Participant
Individuals who are open minded, curious, and passionately want to ignite their leadership potential and improve their effectiveness through personal and professional growth.
This carefully selected cohort experience is for folks who are open minded, curious, and passionate about becoming a greater force for good in all aspects of their lives.  Participants come from a wide variety of sectors and backgrounds, from government, business, nonprofit and entrepreneurs.
APPLY for the Class of 2018-2019
Download the Fall 2018 Course Application here.
(Word Document will automatically download)
Timeline
A detailed timeline and our course application process is outlined in our informational packet.
Class is held the first Friday of the month for a full day from 8:45am – 5:00pm, September 7, 2018, through May 3, 2019.

A two-hour evening orientation will be held on Thursday, August 30, 2018

We will conclude with a half day graduation ceremony on Friday, June 7, 2019.

Social events and Fellows Network gatherings complement the course throughout the year.
How to Apply
You can download a word document of our Application by clicking here and email it as an attachment to Kerry Fugett at kerry@dailyacts.org or mail it to Daily Acts P.O. Box 293, Petaluma, CA 94953.
The Early Bird application deadline is 5:00 PM on Friday, June 15

th

(10% tuition discount).

The FINAL application deadline is June 30

th

.

Applicant interviews will be conducted in mid-July, and selections will be made in early August.
If you are interested in our Fall Cohort, or want to be involved in the relaunch of this program, please email kerry@dailyacts.org.
The 17-year Legacy of the Leadership Institute for Ecology and the Economy
Given the incredible confluence of crises we face, we need more and not less leadership in this big planetary moment. So when the Leadership Institute for Ecology and the Economy approached Daily Acts with news that the Institute would close its doors, we knew we couldn't just let this incredible organization, that for 17 years trained and grew a network of over 500 change making Fellows, go away.
Several of Daily Acts Board and Staff, including our founder Trathen Heckman are Leadership Fellows and have been greatly enriched by the Institute and its Fellows Network. This is why in the fall of 2017 as the Leadership Institute officially closed its doors, its programs, resources and stewardship of the Fellows Network became a part of Daily Acts.   
Daily Acts: Transforming People and Places
With 16 years of experience empowering and educating over 57,000 engaged people and sustainability leaders through collaborative programs, Daily Acts is excited to add the Leadership Institute and Fellows Network into our programming.
Questions?
Click here to review our informational packet with course logistics, timeline and application process, view our program flyer here, or reach out to kerry@dailyacts.org with questions!
Hear What Past Graduates Have to Say
As an academic ecologist, I had a broad, global knowledge of ecological and environmental issues, but only a shallow understanding about local environmental problems and how these interplay with local government policies.  The Leadership Institute inspired a shift in my career – to apply science directly toward preserving our natural resources, sustainable agriculture and the local economy.
The Leadership Institute addresses the entire spectrum of environmental issues in Sonoma County, covering the details about process as well as content along with an opportunity to meet and get to know some of the most influential leaders in the community. The Institute offers invaluable training for both newcomers to the County as well as those who've lived here all their lives.
The Leadership Institute's classes are packed with information and food for thought. It also provides an excellent incubator for problem solving with other individuals concerned about issues critical to our future.
The training actually changed my life, providing me with new insights on many issues related to sustainability, social equity, the economy and our environment.  In no small measure, the training helped me to develop the confidence and the skills I need to run for city council and serve the public.
The Leadership Institute gave me an incredibly unique opportunity to learn and experience the relationship between our local economy and the natural environment that added depth to both my professional and personal life. The mix of student backgrounds allowed me to question, reinforce, and fine tune my own beliefs of what is the best course for our greater community of Sonoma County.
The Leadership Institute's classes gave me the intellectual foundation for what I knew in my heart, and introduced me to a network of people with whom to discuss sustainability.
I had never in my life been around a group of people with that much professional experience. I felt like I was among giants. I never saw myself as a leader until I took the training. I began to see myself differently. As an activist you lead in a populist way, dealing with emotions. This (the Leadership Training) was more purposeful, more thoughtful. I got a much better understanding of leadership.
The information and understanding makes me better at my job. It was very well thought out, and I've recommended it to other people.
I got so much out of it. I got a broader understanding of the issues. The people I have met in the class have become the backbone of my new community. We all get caught up in the details of our lives. You sometimes need an excuse to go out and explore the place where you live.
What I think is exciting is seeing what other leaders in the community are doing with important issues. It inspires me, and it confirms that we're on the right path.
For me, the institute has been about support, inspiration, and commissioning. I sometimes felt alone in driving change for sustainability at work, but I felt personally inspired by the (institute) board and my classmates to make a difference. After the program, I felt an approval and commissioning to move away from lip service into action.
The Leadership Institute program is a unique and exceptional way to learn the tenants of responsible business and how to effect change through public policy. This program will forever affect your vision of how you can contribute to society – no matter what you do.
Through the Leadership Institute I was able to see how the important issues of our time such as energy, water, health, agriculture, land use, transportation, and the economy are woven together in Sonoma County. And it was awesome to meet the local leaders creating community solutions for a more healthy, just, and ecologically vibrant world.
The program was simply amazing. Moving from New York City a few days before the class began, I had no previous knowledge of sustainability issues. Through fascinating lectures, panel discussions, site tours, and networking with classmates, over the course of the year I developed a strong foundation that I will utilize for the rest of my life.
Being very experienced in public policy squabbles in Los Angeles and San Francisco, but relatively new to Sonoma County, I found that the program offered precisely what I was hoping for – a well balanced introduction to many of the organizations, individuals, and issues in Sonoma County that matter. The program is designed in such a way that both veterans and newcomers to public policy will not be bored or mystified, respectively.
This (program) is for any individual that feels a passion for creating a better place in this world. You are provided with tools to help you focus and hone your enthusiasm and then asked to use that focus to effect change. There is nothing more valuable than being given the tools and encouragement to follow your dreams.
The Institute helped me to think about public policy in different ways—to connect issues together in a more holistic approach and to learn more progressive and satisfying ways to solve policy challenges such as affordable housing, transportation and community development.