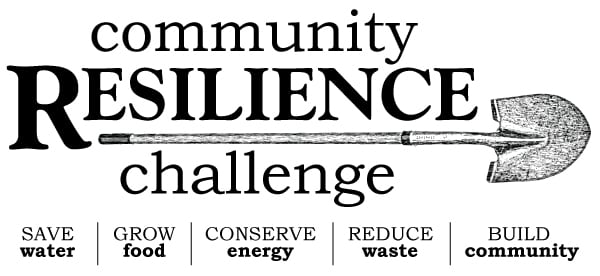 The Community Resilience Challenge (the Challenge) is an annual springtime community mobilization campaign that has inspired thousands of individuals, leaders and groups to take action to save water, grow food, conserve energy, reduce waste and build community.
Registration is easy, and we've come up with 25 suggested actions (everything from installing a greywater system, to planting a fruit tree to making a zero waste pledge) or you can register your own action by selecting the 'other' action field when you register. No matter where you are on your sustainability journey, there's something for YOU.  Actions can be registered now through the end of May and can be anything that you haven't registered before.
People are raising chickens and bees, installing their own rain harvesting barrels, nourishing their food forests with drip irrigation, and building soil health in order to fight global warming (and grow more nutritious food). Businesses are starting lunchroom composting bins and citizens have organized their own sustainability events in support of their passions, like building a rocket stove or touring water conservation in action.
Over the past seven years, 30,787 resilience building actions have been registered locally!! We couldn't be more proud of you Sonoma County!
The Challenge aims to not only inspire action, but also collaborative projects, relationship building and strengthened networks to create lasting change. The campaign encourages individuals, schools, organizations, municipalities and businesses to take practical actions to create more resilient homes, schools, workplaces and communities. We ALL benefit from collective action.
The impact of the Challenge is measured by the number of participants, actions registered, and benefit of the actions taken (e.g., gallons of water saved, square feet of lawn sheet mulched, etc.), but the inspiration, hope and relationships that are built by the campaign are beyond measure.
Our individual actions may feel small or insignificant but when we see them registered alongside thousands of other actions it shows how powerful this movement is. What are the small changes you can make to make a big difference?
What the world needs now is people who have come alive. More than ever, Daily Acts needs YOU!
Dustin
2019-04-19T12:51:36-07:00
On Friday April 20th, 65 volunteers from Navitas Organics, Guayaki, [...]
The 2018 Challenge marks Daily Acts' 9th year of  this campaign that engages individuals, schools, organizations, municipalities and businesses to take practical action for a more healthy, just and resilient future. Our goal this year is to have 5,000 actions registered and to inspire community members to share their story with us!
Through collaborative partnerships with nonprofits, municipalities, businesses, schools, community organizations, and individuals we can create more resilient local food systems, economies, and communities; we can address the pivotal issues facing our planet, from our drought to food insecurity to climate change; and we can 'be the change' we wish to see in the world.
Check out the "tools" tab to access outreach materials and information, and help spread the word! Below are answers to some of the frequently asked questions about the Challenge, but please don't hesitate to email us at thechallenge@dailyacts.org if you have other questions.
Daily Acts is ready to help YOU make a lasting impact this spring and beyond – one that will strengthen and enrich our communities and local economy. Thank you for rising to the Challenge.
The Challenge is a program of Daily Acts, whose mission is to transform our communities through inspired action and education that builds leadership and local self-reliance.

---
Frequently Asked Questions
Toolkits
Community Toolkit (pdf)
In this toolkit you'll learn about how you can become a Resilience Organizer and work to engage people in signing up for the Challenge or organizing an event. We hope that you'll join us in creating lasting change!
Business Toolkit (pdf)
The Challenge is a great opportunity to engage employees, co-workers and/or your consumers in your community and sustainability efforts! Join us today by organizing an event, participating in an existing Challenge event or by getting people to sign up for the Challenge. We will work with you to make your participation a success!
Print Materials
Poster (pdf-English) (pdf-Spanish)
Bookmark (pdf-English) (pdf-Spanish)
Registration Form (pdf-English)
Overview (pdf – English)
Logo & Media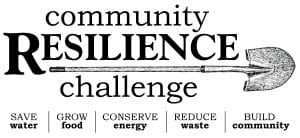 Right click and save this logo to get the word out about the Community Resilience Challenge!
Every year the Challenge expands a little further and a little deeper and Daily Acts is working with communities regionally, statewide and nationally to help them leverage the power of this action campaign. Below are our current key collaborators. If you and/or your organization would like to discuss bringing the Challenge to your community please reach out (
thechallenge@dailyacts.org
), we would love to work with you.
Transition US


Transition US is a nonprofit organization that provides inspiration, encouragement, support, networking, and training for Transition Initiatives across the United States. Since the beginning of the Challenge, they have been a key partner in launching the Community Resilience Challenge nationally. This initiative, in partnership with the Transition Streets initiative, is helping communities lower their carbon footprint, while saving money and building community.
Sustainable Contra Costa


Founded in 2007 by the tireless Tina King Neuhausel, Sustainable Contra Costa has taken up the East Bay Resilience Challenge with gusto. Lovingly called Sustainable Coco by many, the organization fulfills its mission to inspire, educate, collaborate and demonstrate through courses, collaborations, and events like their Sustainable Living Workshop Series held at Rodgers Ranch demonstration urban farm.
NorCal Resilience Network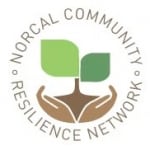 Founded in 2015 and spearheaded by the efforts of Susan Silber, the NorCal Resilience Network has helped Daily Acts ripple and replicate the Community Resilience Challenge, pioneering the "East Bay Resilience Challenge" and inspiring community resilience actions across the East Bay Region and Northern California.
Ashevillage


Ashevillage is a modern-indigenous, one-acre, eco-urban, living learning laboratory in Asheville, North Carolina, dedicated to catalyzing community-based, on-the-ground programs, projects and people that foster a vibrant, just, and resilient world.
Sustainable Lafayette


Sustainable Lafayette is a grassroots non-profit that is working to transform Lafayette into a highly sustainable community that enhances the quality of life for current and future residents.
Bringing Back the Natives Garden Tour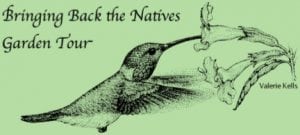 The Bringing Back the Natives Garden Tour attracts more than 6,000 Bay Area residents annually and features home gardens that are pesticide-free, water-conserving, provide habitat for wildlife, and contain 60% or more native plants.
TAKE HEART. TAKE PART. TAKE ACTION.