Did you know the average family of four uses 5,000-8,000 gallons of water annually in their washing machine alone? If 100 families installed a simple Laundry-to-Landscape greywater system, we could save 500,000-800,000 thousand gallons of water a year and put that precious water into our gardens instead of sending it the waste water treatment plant.
Benefits of Reusing Greywater:
Save water – depending on how much potable water you use for irrigation, you could save thousands of gallons of water a year
Save money – you've paid for the water, why not use it a second time??
Enhance Safety – you'll need to use gentler, non-toxic laundry soaps which is safer for both you and the environment
Create Beauty – you'll increase the beauty and bounty of your garden by irrigating with greywater
Build Community – build community by working together with neighbors and friends to install your greywater system
Build a Movement – get educated, engaged, and trained and help build a greywater movement!
Laundry-to-Landscape System Overview
California plumbing code defines greywater as wastewater generated from bathroom sinks, showers, tubs and washing machines. Though all of these sources represent great opportunities to transform waste to resource, the Laundry-to-Landscape system is the simplest, most cost-effective, and does not require a building permit, making it an excellent place to start!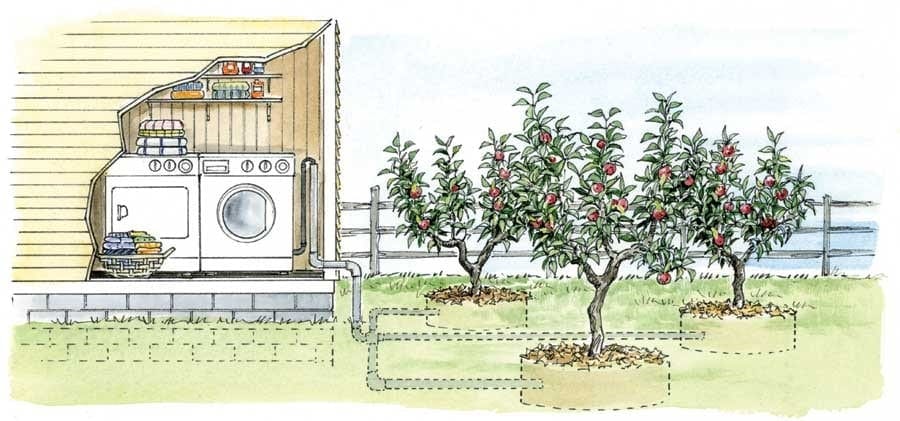 Frequently Asked Questions 
Other Great Sources of Greywater Information

Sheet Mulching is simple, natural, and effective at getting rid of your lawn and/or weed issues
Sheet Mulching is a landscaping method used to build soil, prevent weeds, and retain water. It's sometimes referred to as a mulch lasagna because compost, a compostable weed barrier such as cardboard, and mulch are layered over lawn (or any soil area). Sheet mulching is a variation on nature's way of building soil by accumulating and breaking down organic matter from the top down, and it creates a prime canvas for planting.
Benefits of Sheet Mulching:
Saves between 12-25 gallons of water per square foot per year, compared to a traditional lawn, depending on the type of plants installed. Sheet mulching the average 1,000 square foot lawn could save between 12,000 and 25,000 gallons per year!
Suppresses weed growth
Reduces labor and maintenance costs
Improves nutrient and water retention in the soil and improves soil structure
Encourages favorable soil microbial activity and worms
Improves plant vigor and health, often leading to improved resistance to pests and diseases
 Step 1: Mow, Edge, and Convert Sprinklers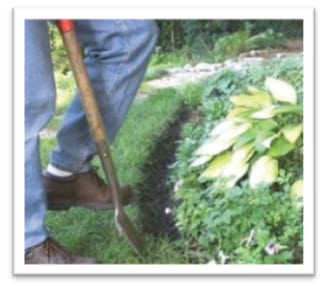 Knock down or mow existing vegetation so that it lies flat. Only remove woody or bulky plant debris – other organic matter can be left in place and will add nutrients to the soil.
Edge the site, especially along hardscaping like sidewalks and driveways. The edging will prevent mulch from spilling on to the sidewalk and prevent grass and weeds from re-emerging around the edges. Edging should be ~5" deep (but can be more shallow around the base of trees) and should gradually slope back to the level of the rest of the landscape.
Cap sprinkler heads and convert one or more sprinkler heads to drip line irrigation, if plants will be installed. Be sure to use a filter (often found inside a sprinkler conversion kit) and a pressure reducer to bring the pressure down to 30 psi.
 Step 2: Plant Large Plants
If you will be installing large plants (5 gallon or bigger) plant them before sheet mulching. Once you start the sheet mulching process, be sure to avoid piling compost or mulch around the trunk of the plant. Note: It's okay to sheet mulch several months before planting. In fact, fall is a great time to sheet mulch and then you can plant in the spring!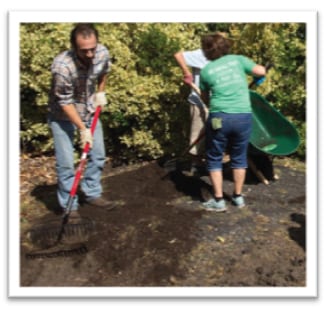 Step 3: Add a Compost Layer
Jump start the decay of weeds and grass by adding compost or manure at the rate of about 50 lbs per 100 square feet (1"-2" deep). Optional: Soak with water to start the natural process of decomposition, especially if you'll be planting soon.
Step 4: Lay down the Weed Barrier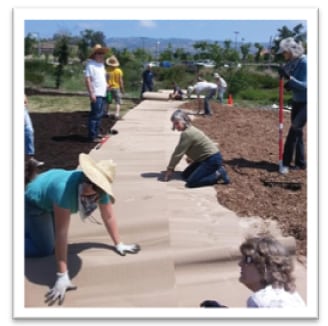 The next layer, an organic weed barrier, breaks down with time. The barrier should be permeable to both water and air and recycled cardboard (available from bike stores and large appliance stores,) is best, but a thick layer of newspaper will also work. Two or three layers may be required to achieve an adequate thickness, especially if using cardboard rolls or newspaper. Be careful not to apply the weed barrier too thickly as the soil can become anaerobic. Since the weed barrier works by blocking air and light, so be sure to avoid tears or holes. Overlap pieces at least 6" to completely cover the ground without any breaks, except where there are established plants you want to save. If it's windy, work in small sections so that the wind doesn't lift your weed barrier before you can weigh it down with mulch.
Step 5: Apply Mulch
Layer mulch at least 3" thick, but the thicker the better!! Leave a generous opening for air circulation around the root crown of plants.
Step 6: Plant the Garden of Your Dreams!
Punch a hole or cut an X in the cardboard and place plants in the soil under the sheet mulch. Be sure the roots are fully in the soil, not just the mulch. Important note: Planting in a newly sheet mulched project can result in re-emerging grass and weeds. It is advisable to predetermine your plant layout and remove the grass and weeds from the desired planting location. Alternatively, you can wait a season or more for the grass and weeds to fully decompose before planting.
Being water-wise isn't just about using less water, it's about being really smart with the water we do have, especially the free kind that falls from the sky. As our climate changes, rain events are predicted to become more severe and less frequent in our area, meaning that we'll receive occasional surges of valuable but potentially destructive water. How can we re-vision our developed landscapes to more effectively utilize the gift of rain?
Here are three 'do-it-yourself' methods to harvest the rain that will make you a water-wise warrior and a model to your friends and neighbors!
1) 'Slow it' with rain catchment systems
The installation of rain barrels, tanks or cisterns to catch rain from roof gutters is becoming a relatively mainstream concept, with information and materials readily available at most local hardware stores. There are many ways to go about designing your system so that it can effectively store a whole season's worth of rain, or just individual rain events. Depending on your storage capacity this free water source can be saved and used for irrigating your landscape during dry months. To give you a sense of how much rain you can collect, a 1000 square foot roof will shed 600 gallons for every inch of rain that falls!
2) 'Spread it' with mulch applications
An unsung hero in the garden landscape, mulch provides numerous benefits besides the aesthetically pleasing 'finished look'. Adding a layer of mulch to your garden can help cut down on erosion, minimize compaction of soil during heavy rain events, maintain soil temperature, replenish organic content of soil as it breaks down and prevent weed growth. In the case of organic mulches like woodchips, which have high water-holding capacity, you can create additional storage for excess water until it can be taken up through soil and plants. Generally applied to lawns, sheet mulching is a process by which compost, cardboard and mulch are added to the landscape in thin layers creating more surface area to spread and capture rainwater on-site, while reducing weeds and increasing soil fertility as it decomposes.
3) 'Sink it' through rain gardens and swales
The addition of rain gardens and swales in your landscape offer two, simple ways to increase stormwater capture and recharge our aquifers. These designed, low depressions and channels create a holding place for water to collect and sink rather than runoff over heavily saturated soils or impermeable surfaces. While both of these features can function well with a dry, riverbed look, incorporating water-wise plantings will increase both the aesthetics and the benefits. The use of native plants in particular can provide much needed habitat, slowing the water and acting as bio-filters for harmful pollutants all at the same time. Be sure to place plants best suited to wet conditions in the center, moving from seasonally wet preferences into dry conditions towards the edges for best results.
Where do you find the resources to make all your conservation dreams come true?
Many of our local municipalities in Sonoma County have incentive programs to help residents reduce water use both inside and outside the home. Programs like Petaluma's 'Mulch Madness', (which delivers cardboard, mulch and compost to your door for free!), Cotati's 'Cash for Grass' and Windsor's 'Efficiency PAYS' program all provide incentives to reduce outdoor water use. The City of Santa Rosa's 'Green Exchange' program also offers similar programs along with a rebate for installing a residential rain catchment system.
If you're looking to grow your skills and gain some hands-on experience or guidance before taking the plunge, Daily Acts offers workshops throughout the year on rain catchment system design and installation, rain gardens, bio-swales and sheet mulching.
There's no better place to start localizing the food system, saving water, and building community than in the landscape right outside your door! The following Daily Acts' favorites are Sonoma County-adapted plants that can help transform your landscape into a luscious, edible playground while saving thousands of gallons of water per year as compared to conventional landscapes.