Did you know the average family of four uses 5,000-8,000 gallons of water annually in their washing machine alone? If 100 families installed a simple Laundry-to-Landscape graywater system, we could save 500,000-800,000 thousand gallons of water a year and put that precious water into our gardens instead of sending it the waste water treatment plant.
Benefits of Reusing Graywater:
Save water – depending on how much potable water you use for irrigation, you could save thousands of gallons of water a year
Save money – you've paid for the water, why not use it a second time??
Enhance Safety – you'll need to use gentler, non-toxic laundry soaps which is safer for both you and the environment
Create Beauty – you'll increase the beauty and bounty of your garden by irrigating with graywater
Build Community – build community by working together with neighbors and friends to install your graywater system
Build a Movement – get educated, engaged, and trained and help build a graywater movement!
Laundry-to-Landscape System Overview
California plumbing code defines graywater as wastewater generated from bathroom sinks, showers, tubs and washing machines. Though all of these sources represent great opportunities to transform waste to resource, the Laundry-to-Landscape system is the simplest, most cost-effective, and does not require a building permit, making it an excellent place to start!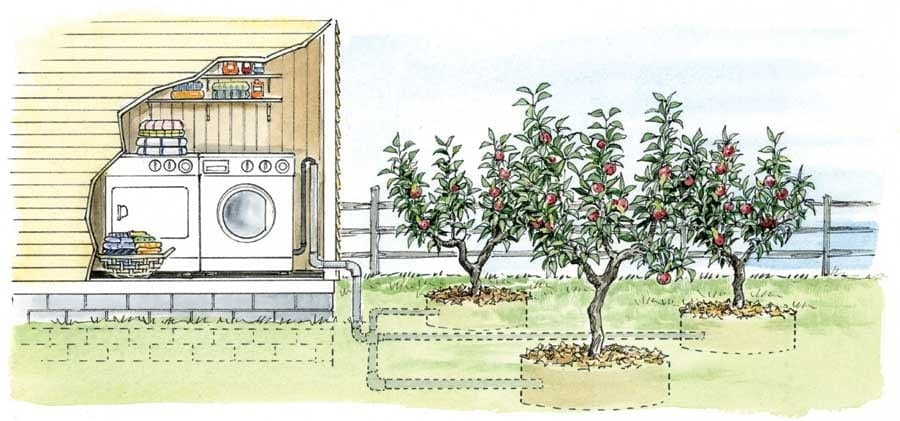 Frequently Asked Questions 
Other Great Sources of Greywater Information
Do You Live In Santa Rosa?
Daily Acts is excited to be partnering with the City of Santa Rosa on an amazing new program to help more folks Grow with Gray! If you are a City of Santa Rosa water customer and have attended one of their graywater workshops then you are eligible for a free on-site evaluation (conducted by us, Daily Acts)!
Our knowledgeable team of Graywater experts will help you determine the best location and design for you Laundry-to Landscape system, along with the appropriate plants to irrigate and how much water they need to flourish. Please submit this request form as space is limited and we will get back to shortly to schedule a site visit.